Available Now

"For readers of Orphan Train and The Nightingale. An engrossing new novel based on one of America's most notorious real-life scandals––in which Georgia Tann, director of a Memphis-based adoption organization, kidnapped and sold poor children to wealthy families all over the country––Before We Were Yours brilliantly fictionalizes and brings to life a shocking facet of America's past."
Click here for the Digital Book Club Kit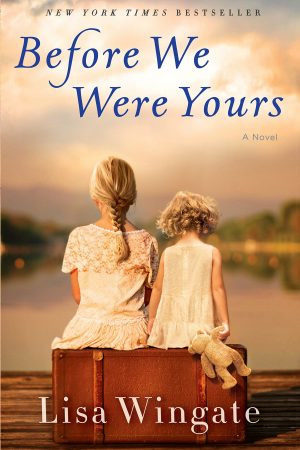 Early Praise

"Rang so true, I couldn't sleep until I knew their fate." –Julie Kibler, bestselling author of Calling Me Home
"I absolutely loved this book. In shock at the true-crime elements, in awe at the journey of these characters who seem to have immortal souls." – Jamie Ford, New York Times bestselling author of Hotel on the Corner of Bitter and Sweet
"An unforgettable read." –– Susan Meissner, author of Secrets of a Charmed Life
"Both heartbreaking and soul-affirming! If you loved Orphan Train, be prepared to fall in love with Rill and her siblings!" — The Book Club Cheerleader
"Fantastic novel." — Publishers Weekly
"One of the summer's best reads."  — Parade magazine
"A poignant, engrossing tale about sibling love."  — People magazine, a People Picks selection.

"Take note: This may be the best book of the year."  — The Shreveport Times, Judy Christie Book Column
The True-Life Stories Behind Before We Were Yours
Dear Reader,
The true-life history of Georgia Tann and the Tennessee Children's Home Society both fascinated and appalled me. I literally have boxes filled with old magazines, government reports, and scans of yellowed newspaper advertisements featuring photos of adorable children flanked by headlines and captions like, "Want a real, live Christmas Present?" and "George wants to play catch but needs a Daddy to complete Team. How would YOU like to have this handsome five-year-old play 'catch' with you? He may be yours for the asking."
By today's standards, it's hard to imagine how so many people could have been complicit in a baby-selling ring that involved routinely deceiving unsuspecting birth parents, and even kidnapping children in broad daylight, then hiding them in unregulated boarding homes where abuse, neglect, and lack of medical care ran rampant.
For me, the how and why of it, the underpinnings of blackmail, falsified records, and political corruption, while shocking, weren't most important story. The most important stories were the ones told in smaller voices, or never told at all –– the stories of the children, of their experiences, of their legacy, of their struggle not only to survive and adapt, but to reclaim their lives and their identities. What was it like, I wondered, to be taken from everything you knew, with no explanation or understanding of what was happening, and placed in the care of someone like Georgia Tann?
Stories are always born from questions, from wondering, and imagining. This is how Rill Foss and her four siblings came to be and how Before We Were Yours began. I wish I could share all of the research with you, all of the true stories behind this novel, but since I can't, I'll leave you with a few historical bits and gathered links, so that you can experience some of the real-life history, yourself.
— Lisa
The Unlikely History of Georgia Tann and the Tennessee Children's Home Society
"For many years I had heard the weirdest forms of stories about Georgia Tann and Tennessee Children's Home Society. Stories were being repeated that the local nursing homes were filled with unwed mothers who year after year returned and gave birth to children for the market. Others told of children born to patients at Western State Hospital for the insane being placed out for adoption with a false background. But by far the most often repeated rumor was that the children were being exported to California and New York in large numbers." — Report to Governor Gordon Browning on Shelby County Branch, Tennessee Children's Home Society, Robert L. Taylor, special counsel on the investigation of Tennessee Children's Home Society, 1950
"Children in the Memphis area had been taken by workers in medical facilities, public aid clinics, and the police department. The children were put under the care of Tann, in an unlicensed home used for the purpose of her black market baby adoption scheme from the 1920's until 1950." — Chattanooga Magazine on the history behind Before We Were Yours
"I frequently took them out and put them in the car myself," the nurse said. "If they were real little, we would put two in the same bassinet; the bigger ones we just placed on the car seat."— Commercial Appeal Newspaper, Memphis, September 1950.  "A House of Mystery" — The story of the orphan house on Popular Avenue as told by a former nurse
"It had been 44 years since Alma Sipple had seen the woman, and then only briefly, yet she could not forget her — the no-nonsense brown hair, the rimless glasses, the air of authority. Everything about her said "authority" — and that's why Sipple had handed over her infant daughter. This nice woman was going to take the child to a hospital for a checkup. Alma Sipple never saw her baby again.' — Beverly Beyette, Staff Writer, Los Angeles Times, 1990.  "A Reunion" — a family reunited after forty-four years, through an Unsolved Mysteries episode